Healdsburg – a small town in Sonoma County known for it's charm and eclectic offering of wines, foods, and beautiful scenery – should be on everyone's bucket list. This down-to-earth town right in the heart of California's wine country has a little something for everyone. From world class shopping to intimate bed and breakfasts, Healdsburg is the perfect spot for a weekend getaway!
And if you choose to visit during the months of May through November, one must-see attraction is the Healdsburg Certified Farmers' Market. One of the original 22 Certified Farmers' Markets in California, the Healdsburg Farmers' Market strives to educate consumers on the importance of supporting local, sustainable agriculture and provide an outlet for small farms and businesses to share their story and sell their products.
…So, why should the Healdsburg Farmers' Market be on your itinerary while in Sonoma County? Read on and we're positive you will be convinced (and also pretty sure that your mouth will be watering!)
Vibrant Flowers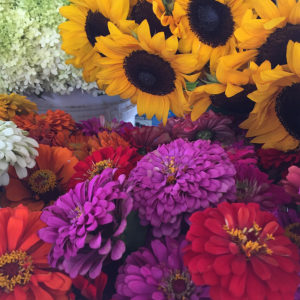 Whether you're buying flowers for someone special or treating yourself (because you deserve it!), you have a variety of choices when it comes to flowers at the Healdsburg Farmers' Market. However, our personal favorite has to be Sophie's Five Acres.
From it's humble beginnings as a lavender farm in 1998, Sophie's Five Acres has grown into a diverse flower farm spanning five acres! Choose from hundreds of seasonal flowers and foliage grown with lots of love right here in California.
Fresh Produce
Looking for your fruit and veggies fix? The Healdsburg Farmers' Market is your one-stop-shop for locally grown, organic fruits and vegetables.
Browse through Middleton Farm's colorful and orderly displays of fresh produce and sample delicious plums, pluots, peaches, and nectarines from Neufield Farms at the Healdsburg Farmers Market. After one hour of shopping and tasting, you'll have everything you need to cook up a tasty dinner (and a few treats for the ride home!)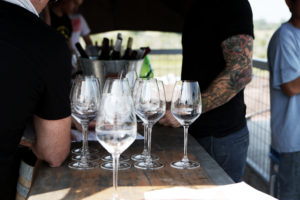 Local Wines
You can't visit Healdsburg without tasting some of it's world-renowned wines. And if you don't have time to visit the wineries, you can still get the full Healdsburg viniculture experience at the Healdsburg Farmers' Market! Visit Preston Farm for a diverse selection of California wines, including Zinfandel, Sauvignon Blanc, and their signature Rhone blends.
Specialty Meats
Enjoy specialty, artisan meats from the Best Butcher Shop in Sonoma County when you visit the Sonoma County Meat Company at the Healdsburg Farmers' Market. Choose from bacon, sausages, jerky, and other meats that pair perfectly with your other purchases.
Delectable Chocolates
Don't leave without satisfying your sweet tooth! Cruise by Firefly Chocolates and taste organic chocolate bars in a variety of unique flavors. Firefly Chocolates is the first bean bar chocolate factory in Sonoma County. This is your chance to be a part of history and brag to all your friends. Don't miss out!
…The best part? The Healdsburg Farmers' Market has everything you need to craft up delicious Green Hope Vodka cocktails.