Fall is the season for cozy sweaters, pumpkin spice everything, and creepy crawly Halloween parties! To really wow, try one of these tricky cocktails at your next Halloween party. They are so delicious, it's scary!
This cocktail is so much fun! Science is put to the test by combining Irish cream with lime juice. With a little trick, you can create realistic looking brains on top of a delicious vodka treat. You have to see it to believe it.
This cocktail is made with a mix of blackberries, lavender, and vodka. The herbaceous flavors are to die for (not literally, even though it's Halloween!). Top with some dry ice for an extra kick.
This cocktail is a twist on a childhood favorite. It combines caramel vodka, apple juice, and butterscotch liqueur to create a sweet and sultry treat. Wow your costume party guests this fall with this showstopper.
This cocktail calls for a trip to the party store for some plastic syringes to really set it apart. While the blood orange is delicious, what is really spooky is the presentation! Grab a bottle of Green Hope and some syringes to make it happen.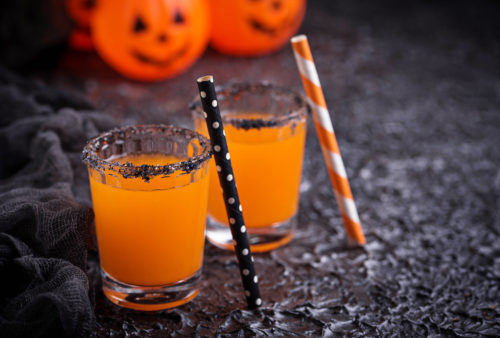 This cocktail features a vibrant green color, a bubbly magic potion touch, and is wickedly delicious! Grab some vodka, orange and sour apple liqueur, a splash of champagne, and you have yourself a Halloween treat. Garnish with dry ice for a vaporous effect.
This layered cocktail combines orange juice, triple sec, and black vodka (just add some food coloring) for a unique cocktail that is hauntingly cool and provides the "wow" factor your party needs. Garnish with an orange slice dipped in your black vodka for the finishing touch.
This beautiful shot channels the poisonous red underbelly of the black widow by combining cranberry juice and black vodka (again, just add some food coloring!). Garnish a shot glass with red sugar crystals to really add that spooky touch.
Simply combine black vodka (try Green Hope and some food coloring!) and dark cherry juice to create a dark, scary looking cocktail that is mysterious and delicious. Garnish a martini glass with some crushed chocolate cookie crumbs to complete the look.
Not only does this cocktail feature a striking green hue, but it is also garnished with a red slime made out of corn syrup and food coloring! Presentation is everything with these Halloween party cocktails and with the help of some vodka and creativity, your drinks will set the stage!
Just because you're an adult doesn't mean you have to give up on your sweet tooth! While you might not be trick-or-treating, you can enjoy the flavors of an Almond Joy with some Green Hope Vodka and coconut rum.
You don't have to be a vampire to enjoy this delicious cocktail! Using raspberry puree, you can easily create dripping blood to complement your fruity creation. Scary, sweet, and ready to drink!
This adult milkshake would have Casper on the edge of his seat! It combines vodka, vanilla syrup, cream, and soda to create the perfect treat for the Halloween season.
This special martini combines coffee liqueur, chocolate, vodka, and cream to create a treat that tastes just like a Milky Way! Save the bags of candy for the kids and enjoy this adults-only specialty.
Halloween is a time to dress up and enjoy some sweets and special drinks, and these recipes are sure to make your party one to remember!