The Mountain View Farmers' Market is the third largest in California and consistently hosts some of the area's top vendors for fresh meats, veggies, fruits, and more. Whether you're looking for a locally-baked scone, a fresh bouquet of flowers, or just want to people watch and hang out with like-minded locals, this is the spot for you. Highlighted here are some especially awesome products that the Mountain View Farmers' Market is proud to provide.
Hybrid Fruits
Ever heard of pluots or cherums? The Mountain View Farmers' market is the place to get such unique, delicious hybrids! The pluot, a plum and apricot crossbreed, was discovered and trademarked by Floyd Zaiger of Zaiger Genetics.
Zaiger Genetics is one of the 80 vendors that can be found at the market. Lately, these hybrid fruits have soared in popularity and make awesome addition to salads, desserts, and Hope cocktails! They are sweet and different and, mixed with a dash of small batch vodka, make a delicious summer treat.
Fresh Bouquets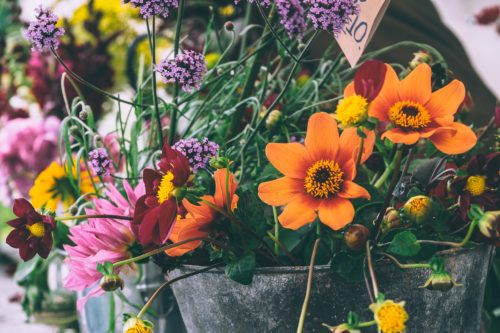 Nothing screams farmers' market like a big, fresh bouquet of sunflowers or peonies. The Mountain View Farmers' Market has a number of flower vendors, including Muddy Boots Farm, and all the picks are seasonal, locally-sourced, and beautiful. They make the perfect gift for a loved one, a friend, or for treating yourself! Sit a vase on your kitchen table and voila! These showstoppers will add a bright, cheery feel to your home or office.
Summer Veggies
One of the things we love most about farmers' markets is that the produce is always changing based on the season. The Mountain View Farmers' Market is hosted every Sunday from 9am-1pm and this year-round schedule allows the team to change up their offerings regularly.
In the summer, some favorites are corn, artichokes, power greens, and more. Whip those up on the grill, add a drink, and you have yourself the perfect summer meal. On the Mountain View Farmers' Market's Facebook page, they share some killer recipes of how to take advantage of these seasonal picks. Add to that our delicious Drink of the Week and your summer parties are sure to wow. Host of the Summer Award, anyone?
Delectable Desserts
To wrap up a healthy adventure at the farmer's market, grab a delectable dessert from one of the Mountain View Farmers' Market vendors! Our favorites include Borba Farm's Berry Pie, strawberry shortcake made with local berries, and raspberry trifle, as raspberries are in peak season. There's nothing better than a locally-sourced dessert made with fresh, in-season produce. While most of the Mountain View Farmers' Market picks are pretty healthy, there's nothing wrong with a little splurge here and there!
Just as our mission at Green Hope is to drink organically, we love to eat organically, too! We believe that California communities should stick together and we can't wait to hear what delicious craft cocktail you whip up with your Mountain View Farmers' Market finds!